Interview With Artist Stevie McCrindle
Creating contemporary art, inspired by nature's natural beauty, Stevie McCrindle designs unique prints for the home. Whether your home breathes coastal living or your interiors are classic in design, Stevie's art works beautifully with any interior.
Growing-up in the fishing village of Newlyn; a thriving hub for fish market commerce and art culture, Stevie draws inspiration from her love of Cornwall.
Producing a series of fish prints, the artist has adopted a traditional Japanese method of printing fish called Gyotaku. Dating back to the mid-eighteen hundreds, this form of printing was used by fisherman to record their catches.
During a rainy afternoon in Cornwall, while looking after her grand-daughter, Stevie was inspired to have fun printing in the kitchen. Stevie had bought plaice from her local fishmonger that day and thought it would be fun to take prints with grand-daughter Elsie Rae. While tidying up the kitchen after Elsie Rae went home, one of the prints caught Stevie's eye. Sitting at the kitchen table with fine liner in hand, Stevie started to add detail to the fish print. The result, is the collection of prints which Stevie creates today.
Stevie will take four or five prints of an individual fish or crustacean caught or found around Newlyn and Mounts Bay, The artist records all the information of the fish from boat to plate, including the day it was caught, and on what vessel, where it was subsequently sold, and how it was cooked.
Once the prints are dry, Stevie will work into the ink with finer liner adding details like scales, fins and gills. Stevie will stare at the fish for a while, trying to find patterns in its form. This is then translated onto the print.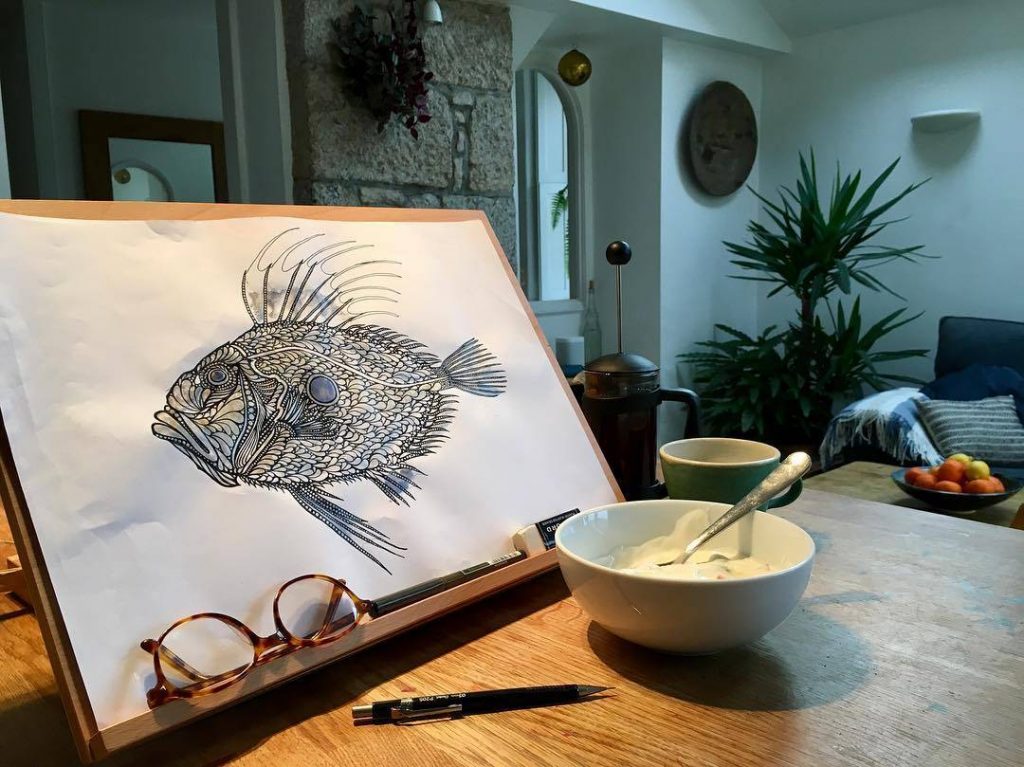 You can follow Stevie's story and view the full collection here.