Interview with interiors photographer Elliott White
Elliott White Photography, Cornwall.
Elliott White is a talented interiors photographer. His style is effortlessly beautiful and clean. Working with natural light, Elliott captures the design and colour of an interior space. He offers a very personal service, working with you to create new and inspirational imagery. I have worked with Elliott on several shoots. His style and personality is laid back and approachable. I asked Elliott if he would be happy to be interviewed for my blog, as working in the interiors industry, designers are always looking for trustworthy photographers, who understand their style. Here is what he had to say…
How did you get into photography, and what inspired you to pursue interiors?
Firstly, I would like to thank Tracey for inviting me to this interview. Tracey is a talented Interior Designer and an absolute pleasure to work with.
I first became interested in photography back in 2009 during my time at high school. As a severely dyslexic student, reading and writing was definitely not my thing so I started using photography within my art classes to tell stories and depict narratives.
My passion for photography then grew and directed me through college and university. As a technical photographer, I was driven by the challenges that interior photography offers. Hooked on these challenges, I now find myself ever more ready to find a new look, producing inspirational imagery that offers ideas and desires.
What should an interior designer look for when hiring a photographer?
A couple of questions to ask yourself really, a designer should ask themselves, does the photographer get my brand? Like with any art form, designers have their own approach and style, if the photographer they are working with does not fit or mould to their brand's identity, then this can devalue a designers brand.
Secondly, can the photographer do your design justice? Future clients will be guided by your visual marketing, so bad photography can portray a feeling of unprofessionalism thus resulting in them going elsewhere.
Thirdly, look for a someone that is 30% photographer and 70% furniture mover. I always joke about this one. To me, styling is the key to great photography. Although having a great stylist is key on any successful shoot, if the photographer can't direct and move objects into frame in order to tell a story, then they are missing a trick! When booking a photographer, look at the four corners of the image and ask yourself, have elements been moved into place to form the overall image?
What is your favourite room to photograph and why?
Always the kitchen! For me, this is the hub of the house and where the magic happens.
What's your favourite piece of equipment you work with?
This would have to be my lights and a tripod. No matter the camera, knowing how to light any kind of shot is key. After all, it's the lighting that creates the mood and influences feeling.
Talk to us about lighting. Do you use natural light? Take photos at a certain time of day? Bring lighting with you to a shoot? What determines these decisions?
Hard question. I use a mixture of natural light and artificial flash, depending on the room, the designer's brand and the overall mood that wants to be conveyed in the image. All of these factors determine what setup I decide to work with and use on the shoot.  
What are the main challenges you face as an interiors photographer?
The main challenge I face is weather. Without a doubt weather is the number one issue with interior and architectural photography.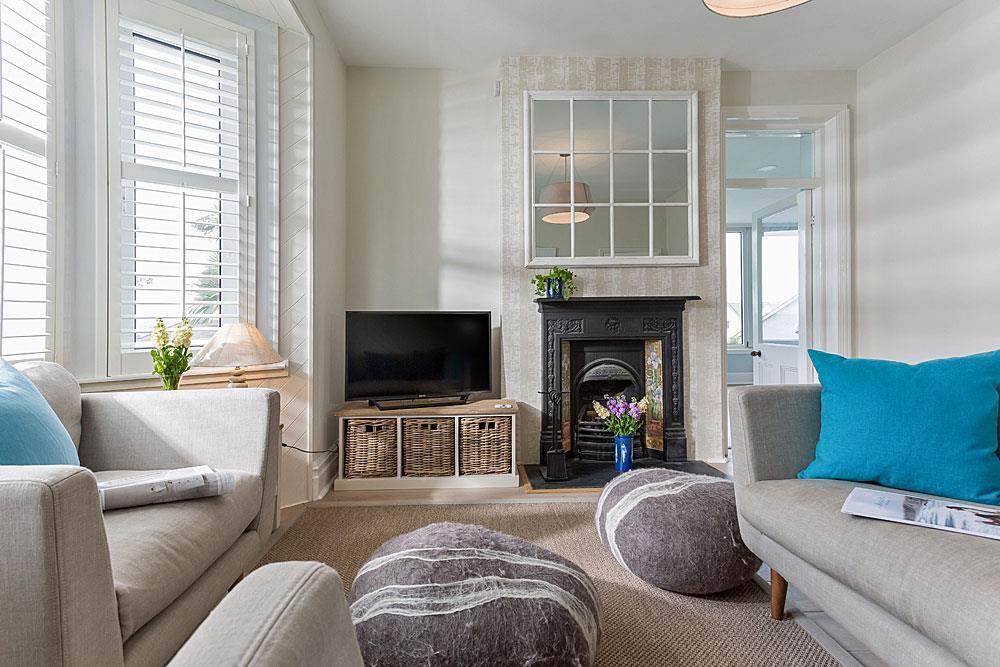 Do you get the urge to photograph beautiful interiors, even when you haven't been hired? Like… pretty restaurants? Are you automatically imagining how you would capture a room?
The issue with being passionate about photography is that you never switch off, every space you visit you are subconsciously looking for great photography opportunities. I have often offered free shoots just because I have wanted to shoot a space so much! I also believe that it is important for photographers to have days where you are not shooting for a client, as clients create boundaries and to push yourself as a practitioner, you need to make terrible images every now and then to find out what works and what doesn't.   
What advice would you give to someone looking to pursue a career in interiors photography?
My only advice is to keep shooting and if you discover a new look or way of doing things differently then go with it. Or look at those who are doing it well and copy them try to work out how they are making a success and how you can meet their standards and then hopefully become better. You don't learn without failing and when you stop failing you have stopped pushing yourself.