Rooms with a view – 7 Mawgan Bay View
Inside coastal interiors.
When surfing enthusiasts Ruth and her husband decided to look for a holiday home to escape to with their teenage children; it was a no-brainer that the location had to be Cornwall. Known for its surfing community and mile long beaches, Cornwall offers an idyllic spot for family holidays by the sea.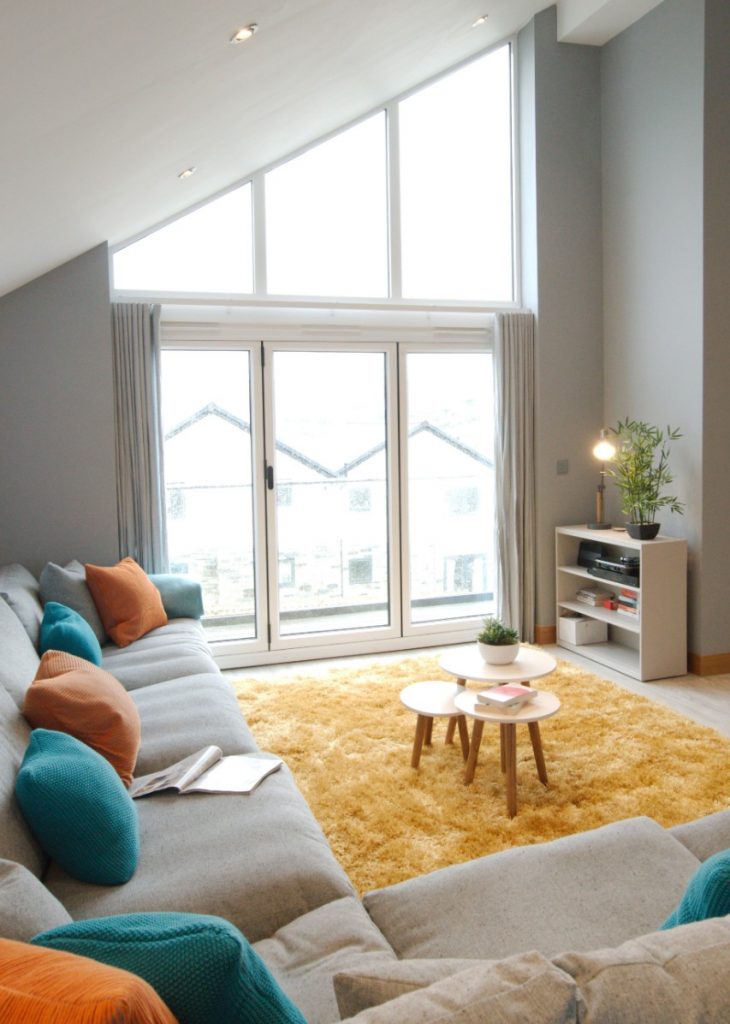 Purchasing a new build property on an exclusive development overlooking Mawgan Porth Beach, Ruth wanted to create a home away from home, with all the luxuries and home comforts they had experienced previously staying at nearby hotels. The challenge for Ruth was finding a colour scheme which worked for the space, but also incorporated the family's love of bright colours. Ruth was so impressed with the interiors I had created for her neighbour at no.6, which played with both colour and design, that she engaged me to help her fashion a cohesive design scheme.
The Brief:
Initially, Ruth did not intend for the house to be let, only to be used by family and friends. She has since decided to let through holiday letting agency Beach Retreats.
Ruth wanted to create a space which felt warm and welcoming, playing with bright colours which reflect those of the coast. She didn't want a nautical theme but a nod to sunny shades and blue hues.
The Design
The open plan kitchen and dining space, though very spacious, was quite dull and uninspiring. Grey kitchen units, white walls and limewashed floors, made the space blend into one, leaving a feeling of emptiness. Ruth wanted to inject life and colour into the space creating warmth and a sense of homeliness but was unsure where to begin.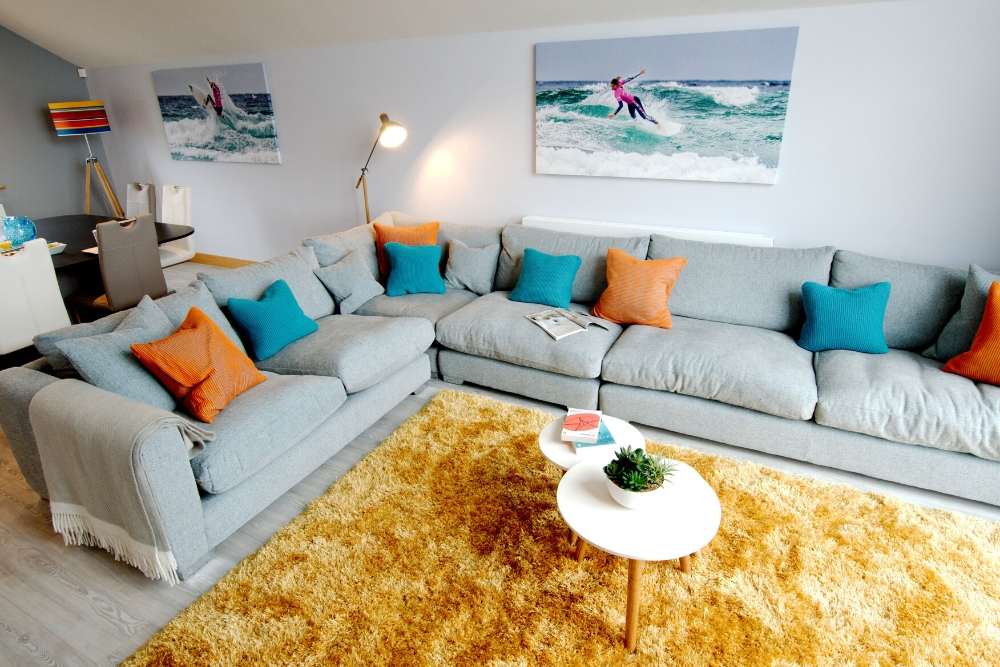 Keeping some key pieces in the room, like the over-sized grey corner sofa, I worked with Ruth on designing the colour scheme. Playing with the tonal greys and wash-out whites in the space, I convinced Ruth to paint the room's walls in two different shades of blue and grey to add depth and enhance the interesting shapes and shadows cast by the high ceilings.
Ruth had purchased lime green, pink and orange cushions for the sofa, however on their own they didn't add much to the room. Using bright, warm colours I introduced turquoise into the scheme, with knitted cotton cushions, which replaced the lime green and pink cushions. I centralised the design with a large golden orange shaggy rug. Anglepoise lamps were added as a final touch in the living area to create low level light for a more intimate and cosy space.
To bring a sense of cohesiveness to the open plan living space, I used lovely soft blue/grey linen as lightweight curtains in the apex window (that could be drawn right back as not to obscure the beach view) and hung roman blinds in the same fabric in the dining and kitchen areas.
Ruth had commissioned large surfing images to exhibit in the living space area to introduce bright colour. I picked out colours from the artwork and played with a clash of pigments to create a cheerful coastal scheme. I added a tripod standing lamp with a deckchair-like stripe fabric to the corner of the dining area, which was specially made by QuirkUK. Ruth loved the energy of colour used in this space, so commissioned a handmade surfboard to accompany the scheme, which now hangs proudly on the wall.
In the bedrooms…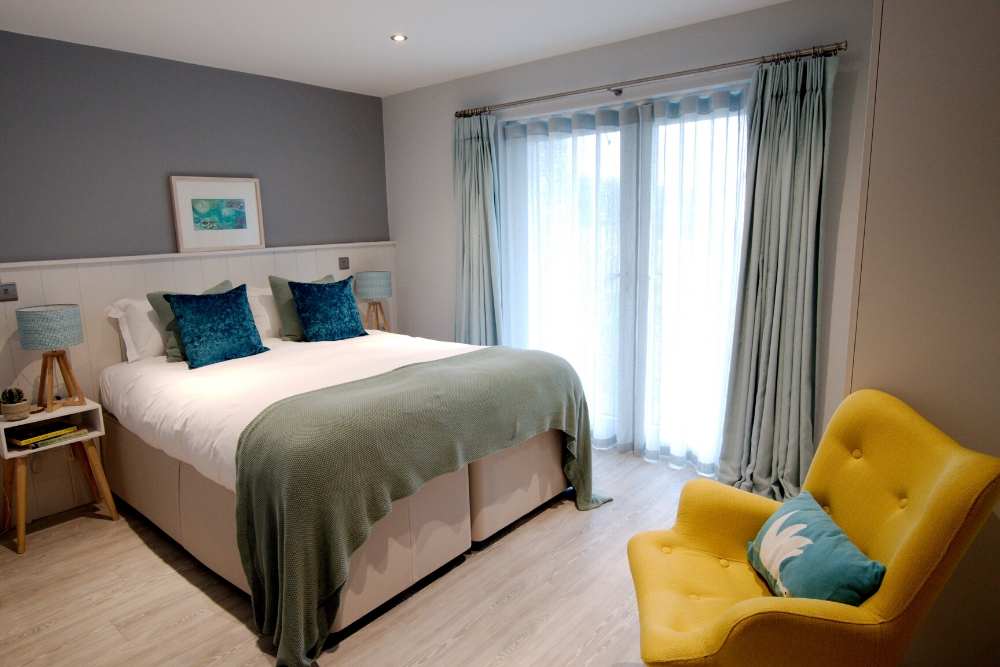 Ruth had already purchased white beds, bedside tables, wardrobes and curtains. Although the curtains were in a soft pale blue shade, they weren't professionally hung. I convinced Ruth to professionally hang the curtains and to add full length voiles in bedrooms one and two to increase privacy and filter light. In the bedroom three, we opted for roman blinds.
Ruth's husband isn't keen on headboards, but headboards can make a bedroom feel luxuriously cosy, so we agreed to make painted built-in wood headboards to add a coastal design element to the rooms.
In the master bedroom we created a feature wall using a mid-grey colour. On the bed, knitted sage green and velvet teal cushions with complimenting throw were added for texture and sensory feeling.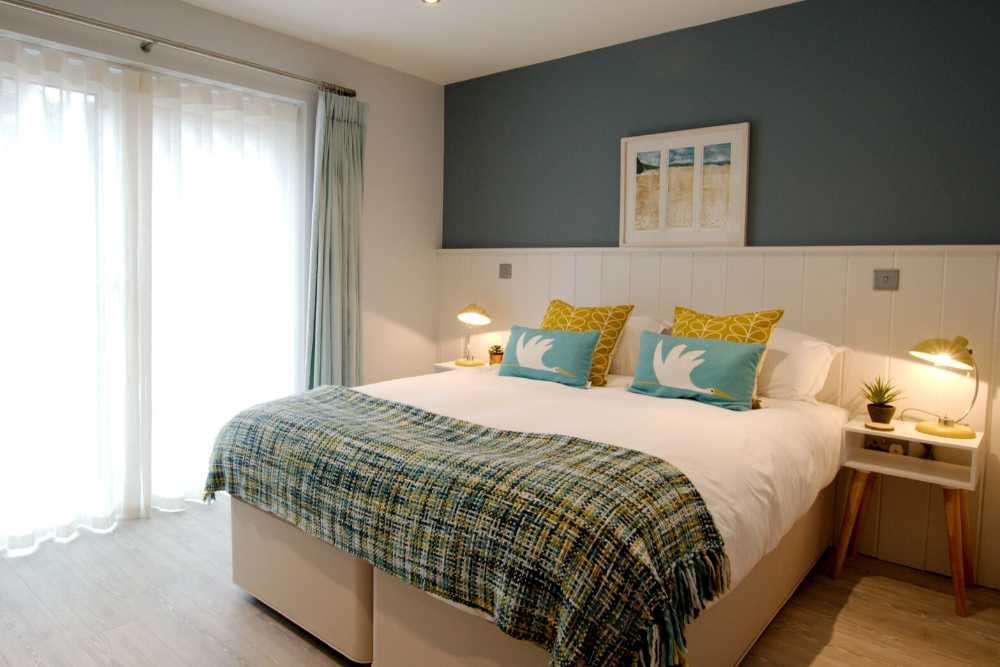 Similarly, in the second bedroom we used a dark denim blue on the main wall and added a pop of colour to the scheme, using mustard yellow table lamps from John Lewis, and turquoise and mustard cushions from Orla Kiely and Scion on the bed.
In bedroom three, we painted the walls in a soft light-reflecting pale blue. A mustard yellow fabric from Scion was used for the roman blind, which looks fab next to the yellow upholstered chair which the client had purchased previously. I added dark teal Moroccan printed oversized cushions to the bed to add warmth and cosiness along with the knitted grey and teal cushions. I've been told by the client that her teenagers love this room when they are using the house as their family retreat.